Prime Ribeye Steak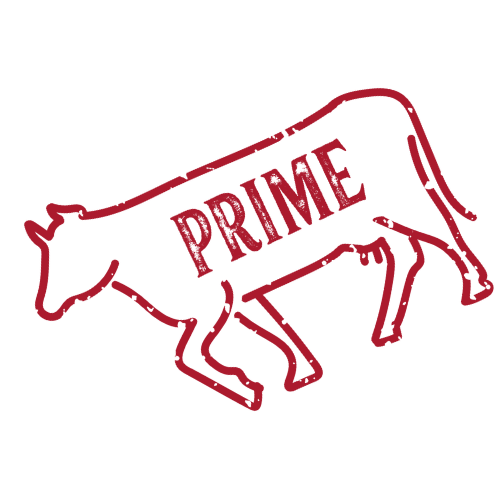 Prime Ribeye Steak
Regular price
$1680
$16.80
Always cut-to-order by an artisanal butcher
Free delivery on orders over $250
---
"Your new go-to cut of beef."
The Quick Facts on Prime Ribeye Steak
100% Prime beef ribeye

Available in a variety of sizes
Okay, time to brag. The Butcher Shoppe sells a lot of pretty special cuts of meat - all of it fresh and sourced from the very best farms - and this beautiful Prime Ribeye is no exception. It has presence and presentation, thanks to its thick cut and generous marbling, and the flavour is to die for! 
Prime Beef Goes Great With...
While roasted veggies, fingerling potatoes, and red wine are classic accompaniments to a prime ribeye steak, serving two proteins side-by-side can enhance your enjoyment of both. Below are some of our favorite recommendations.
Our Preferred Preparation for Prime Cut Ribeye
We recommend that you sear this beautiful ribeye in a cast iron skillet or hot grill on high heat (the time per side will vary depending on the size you order). Finish on medium heat, using a meat thermometer to ensure it's reached your preferred level of doneness. We recommend medium or medium rare.
Don't be afraid to season your prime ribeye with salt and pepper for that mouth-watering outer crust
How Much is Prime Ribeye Steak?
Our ribeye steaks cost $16.80 for an 8 oz. cut, or opt for one of our larger cuts at the following prices: 
10 oz.: $20.99

12 oz.: $25.19

14 oz.: $29.39

16 oz.: $33.59

18 oz.: $37.79

20 oz.: $41.99
*Prices are subject to change. Please see the top of this page for the most current pricing. 
How We Ship Our Prime Beef...
Our prime ribeye steaks are hand-cut to order by an artisanal butcher before they're immediately vacuum sealed and sent to your door on our own fleet of refrigerated trucks. We offer delivery throughout Toronto, or you call in an order for pick-up. We'll have your selections ready to go at your convenience.
Known as the king of steaks, boneless ribeye is cut from the primal section of the beef rib and consists of three parts: the ribeye (longissimus dorsi), the rib crown (spinalis), and the complexus. As you might have guessed, the ribeye is the center of the cut and makes up the majority of the meat. It is separated on either side by fat, giving way to the juiciest part of the steak—the crown—and the complexus, a much smaller part of the cut that isn't always present.
Does it get any better than Fort MacLeod, Alberta? All Butcher Shoppe ribeye is sourced from picturesque western farms in this area. Beyond their breathtaking views, these dry, open-range environments produce some of the very best Canadian beef that money can buy.
Butcher Shoppe ribeye should be kept refrigerated as soon as it's delivered and for a maximum of 5 days. Ribeye can be frozen for up to 1 year. Cook on high dry heat to medium rare for optimal flavor and tenderness.
The ribeye is so ubiquitous among grillmasters, butchers, and steak lovers that it has an alias. Actually, a couple aliases. You might hear the ribeye referred to as "Scotch steak," "Delmonico steak," "Cube roll," "Spencer steak," or our personal favorite, "beauty steak." However, you'll soon find that everyone calls ribeye delicious.